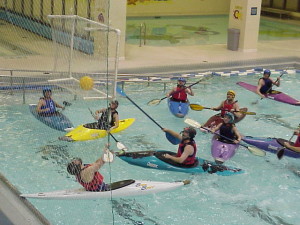 FORT COLLINS KAYAK POLO CLUB
(aka Mountain Kayak Polo)
Fort Collins, Colorado
FALL 2021 UPDATE:
Survey results are in, and it looks like we have enough interest to make polo/rolling season a go! We've contacted the city to secure dates, and what's currently on the site is the best information we have now. If anything changes due to covid or other factors, we'll update ASAP.
The east pool will be available for rolling every night when polo is on, and you can save some dough by buying a punch card for 5 or 10 sessions.
See the schedule and costs for more details!
Like to kayak or want to learn?
Like to throw things and tackle your friends?
Want to practice your boating skills and stay fit in the winter?
If you answered yes to any of these questions, kayak polo might be for you!
(Side effects may include fun, fitness, skills, strength, and friends. Maybe beer.)
Join us!