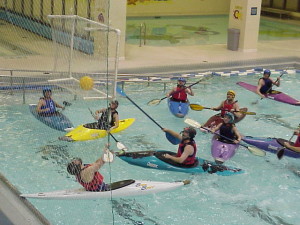 FORT COLLINS KAYAK POLO CLUB
(aka Mountain Kayak Polo)
Fort Collins, Colorado
MARCH 2022 UPDATE:
WE SAVED POLO! Our meeting with city leaders was a success, and our fees have been reduced and we have a plan to have affordable contracts going forward. We will resume regular Thursday night polo/rolling starting on 4/7/22, and go through the end of April. We're considering going a couple of weeks into May to make up for lost time, tell us if you're interested so that we know whether to reserve the pool or not.
The east pool will be available for rolling every night when polo is on, and you can save some dough by buying a punch card for 5 or 10 sessions.
See the schedule and costs for more details!
Like to kayak or want to learn?
Like to throw things and tackle your friends?
Want to practice your boating skills and stay fit in the winter?
If you answered yes to any of these questions, kayak polo might be for you!
(Side effects may include fun, fitness, skills, strength, and friends. Maybe beer.)
Join us!